Posted at Feb 15, 2017 1:59 am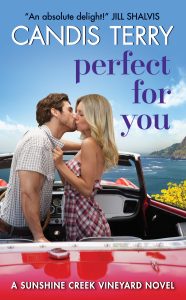 Two weeks from today ( February 28) the second book in my Sunshine Creek Vineyard series will be on sale! I can't wait to share this book and all the fun I have planned for release day with you. Some special things will be available for my newsletter recipients only, so if you haven't sign up on my home page yet, please do. You don't want to miss out!
The book is available now for pre-orders.
https://www.amazon.com/Perfect-You-Sunshine-Vineyard-Vinyard/dp/0062471848/ref
I'll be back soon with the special things for my newsletter peeps. Until then, happy reading!
Candis
Posted